Using Jamaica's Open Data Portal
Welcome to the government of Jamaica's new open data portal, a site designed to provide access to timely and relevant data from various ministries and agencies. The portal was built using DKAN, a Drupal-based open data tool with a full suite of cataloging, publishing and visualization features that allows governments, nonprofits and universities to easily publish data to the public.
The purpose of this article is to explain the major features of the site to help visitors and citizens make sense of what they'll find.
DKAN 101
The open data portal's publishing model is based on the concept of datasets and resources. A dataset is a container for one or more resources; a resource is the actual "file" being published, such as a CSV, Excel, GeoJSON or a TIFF aerial image. Depending on the specific resource, data previews and visualizations are also available.
Groups and Topics are another way to navigate the data available on the portal. By clicking on Groups in the main navigation, you'll see a listing of ministries and agencies as well as how many datasets are available. The dropdown menu for Topics allows you filter data based on subject matter rather than data owner like Groups.
Stories are how the government of Jamaica helps visitors to understand the data in a more engaging way. By combining narrative with data-driven charts and maps, citizens can learn more about specific initiatives and gain a better understanding of how data affects their real lives everyday.

Datasets
Things to Remember
Datasets are assigned to both Groups and Topics, which are displayed underneath each result as text and icons.
Removing the "Dataset" filter from the sidebar navigation reveals all the available search filters.
Clicking on a Dataset name takes you to a page where all the available Resources are listed, with data previews if applicable.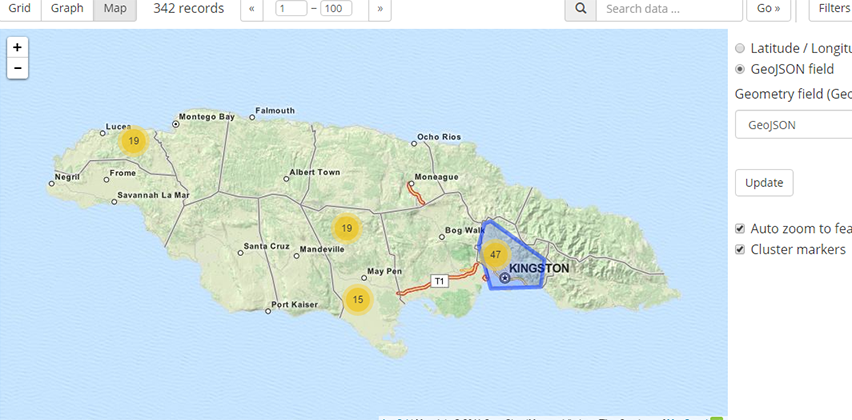 Groups
Things to Remember
In the world of DKAN, Groups are used for Ministries or organizational units responsible for specific datasets.
Group landing pages have links to all datasets assigned to that group.
It is easy to see available file types as well as any Topics or additional Groups the dataset belongs to.

Resources
Things to Remember
Resources with Preview or Open With next to the Download button have additional features for data previews and visualizations with external tools like CartoDB or ArcGIS.
Resources with the Data API visible have additional capabilities explained by clicking the following link: DKAN API.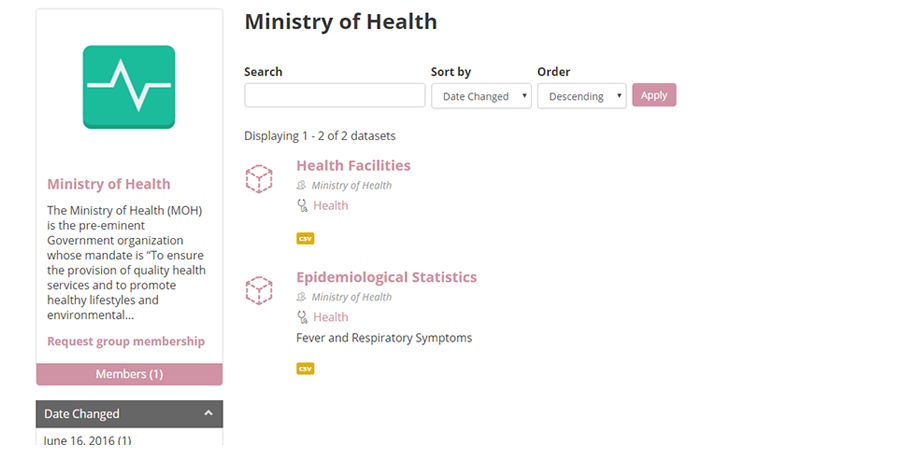 Search
Things to Remember
All content on the site is indexed and searchable by keyword both in the header or on the search results page.
Filters in the sidebar allow results to be narrowed by Content Type, Topic, File Type, etc.
Data Visualization
As Jamaica's open data portal matures over the coming months and years, visualizing data will be an important tool to tell the data story of the country and its citizens. DKAN provides powerful visualization tools built into the platform as well as the ability to easily embed third-party data tools such as CartoDB, Tableau Public and Google Charts.
Suggestions or Questions
The government of Jamaica's open data committee is excited to engage with citizens to develop a robust and growing open data website. If you have questions about site functionality or suggested improvements, please send them to help@mset.gov.jm.